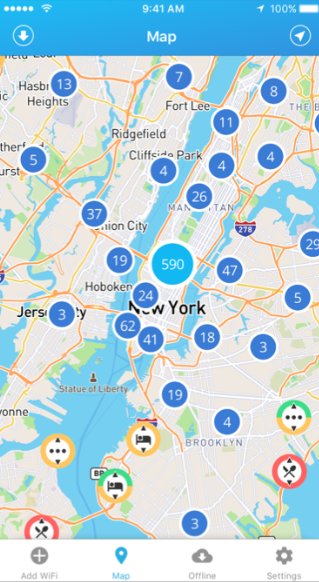 WiFi Finder is a free app that will help you find Wi-Fi hotspots. I've tried a few WiFi finders, and this one stands out in both its look and feel, and the sheer amount of data you can access with it. The app will allow you to filter results by the venue type, provider, free or paid, which makes it very convenient to find exactly the type of connection you're looking for. To make it even easier, the app shows the locations on a Google Map, so you don't have to guess how far away it is, or how to get there.
I like that the app also provides information about the network you're currently connected to, including signal strength, MAC and IP address, security, etc. It will also allow you to pull up a "radar" showing you all the networks in range where you are right now, so you can easily see if there is a better option.
On both the good and bad sides, there is also an optional database download of WiFi hotspots. Good, because this means you can more easily find a hotspot when you aren't already connected, making it more usable for someone on the go, rather than for someone looking for a place to go next, from a connection they already have established. However, the download is huge, at 55MB, so for a lot of people, it's a bit impractical. I would like to see the option to download smaller chunks of the database for less space – maybe have options for hotspots in a 10, 20 or 100 mile radius, as well as the full database, so there are options for people with less memory to spare.
If you move around your city a lot, and want to make sure there's a connection when you do, this is a seriously handy thing to have. The ability to search not just in your immediate area, but to look ahead to find hotpots near where you plan to be, is a huge bonus. And the filters make it even easier to narrow down the search to find the connection you need in a venue you want to be in the future.
I found this app extremely easy to use. Open it up, and it will do the rest of the work for you. It pulls up a lot of information, but lays it out in a very easy to understand and access format. The filters make it even faster to find what you're looking for.
If you drive around a lot for your job, or for fun, this is going to be an app you use often. If you do have the memory to spare and can download the offline database, it will be something you'll pull up on a regular basis. Without the offline database, you'll have to remember to check ahead for hotspots in the area you plan to be in, but overall it's an app you'll use often.
I thought this was one of the more polished, well-thought-out examples of this type of app I've come across. The interface feels like it has some thought put into not just making it functional, but making it pretty as well, which is a nice touch. When an app can bring both of those together, you know you have a winner.
The only downside to this app is the huge size of the offline database download. If you don't need that, or you can do without it, this is a must-have app! It is something anyone who wants to be able to connect to the Internet no matter where they go doesn't want to be without, especially for this price – free.